BOILER TUBE SAMPLING

WHAT IS BOILER TUBE SAMPLING?

A procedure for removing tube samples from a boiler in order to assess internal surface conditions.

WHAT IS A DEPOSIT WEIGHT DENSITY MEASUREMENT?

A test method involving the removal of deposition from a measured area of the surface of a tube so the weight of deposit per unit area of tube surface can be calculated.

WHY IS BOILER TUBE SAMPLING AND DEPOSIT WEIGHT DENSITY MEASUREMENT IMPORTANT?

As deposits accumulate on boiler tube surfaces they restrict heat transfer reducing boiler efficiency leading to overheating of the tube metal and eventually tube failure. It is essential to measure the rate of deposit accumulation so corrective action can be taken to clean the boiler if necessary and to change the waterside conditions to maintain clean tube surface conditions. If a tube failure occurs it is important to follow good procedures in sampling the tube in order to get the maximum amount of information relative to the causes of the failure.

HOW ARE BOILER TUBES SELECTED FOR SAMPLING?

Samples are normally taken from the highest heat transfer areas of the unit since this is the area where deposition is most likely to accumulate.

Often a boroscope or videoprobe will be used to identify areas where deposits are accumulating during a routine inspection of the unit.

If a boiler tube failure occurs that tube should be sampled for metallographic examination.

HOW SHOULD THE TUBE BE SAMPLED?

The tube sample should always be saw cut rather than cut with a torch to avoid heat damage to the metallurgy.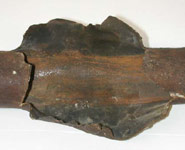 When sampling a failed tube always cut at least 20 cm either side of the failure so that a significant amount of the undamaged tube is available for evaluation. If it is not possible to do this sample an undamaged tube from the same area of the unit for comparison purposes.


After the sample is removed cover each end of the tube with tape to prevent debris or moisture from entering the tube.

Clearly mark the top and bottom of the tube sample and indicate the direction of water flow in the tube. If the sample is from a waterwall tube mark the hotside and coldside of the tube.

Pack the tube sample carefully for shipping to our metallographic laboratory to avoid damage in transit.